Our Good News
Subscribe to posts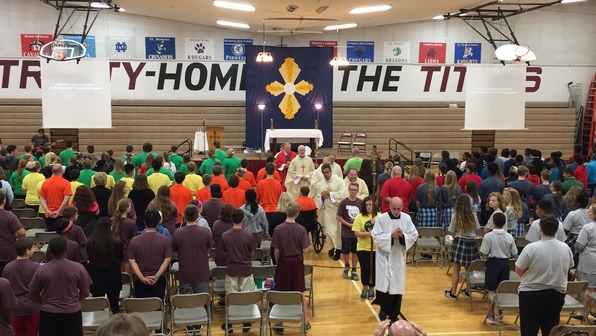 Catholic Schools in North County Receive $10,000
Koch Foundation Grant for Student Retreat Days
The Koch Foundation, Inc. of Gainesville, Florida has awarded a $10,000 grant to the Federation of Catholic Schools in North County to be used in support of student retreats in the 2018-19 school year.  The retreats will be focused on sacramental preparation, for students receiving the sacraments of Reconciliation and Eucharist for the first time, and for junior high students preparing for Confirmation.
"We are grateful to the Koch Foundation for this generous grant in support of our efforts," said Cara Koen, Director of Advancement for the Federation of Catholic Schools in the Northeast Deanery.  "The students and teachers enjoy coming together for retreat days and this funding makes it more financially feasible."
The Koch Foundation has provided grant support for the Federation of Catholic Schools in previous years: a $15,000 grant in 2013 for supplies and materials in support of collaborative programs, a $7,000 grant in 2014 to assist with the Confirmation Rally and Corpus Christi Procession, and a $10,000 grant in 2016 for student retreats in the 2016-17 school year. With this year's grant the Koch Foundation's cumulative support totals over $40,000.
"It's so good to see this solid Foundation appreciating our sacramental preparation for the Federation," said Monsignor Mark Ullrich, pastor at Sacred Heart Parish and Dean of the North County Deanery.
The Confirmation Rally is scheduled for September 28th at Trinity Catholic High School, and the 2nd Grade retreats will be held in October at Pallottine Renewal Center, led by the Sacred Heart Sisters (Society Devoted to the Sacred Heart).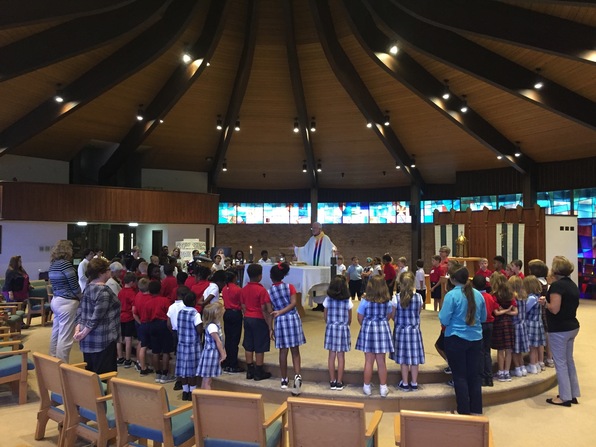 It's an exciting time for Catholic schools in North County.  All of our schools are welcoming visitors this weekend at
Open House Sunday on January 28th
.  St. Ferdinand, St. Norbert and St. Rose Philippine Duchesne have an extra reason to celebrate, as Archbishop Carlson just announce the name he chose for the new partnership school at the three parishes: All Saints Academy. 
Click here to learn more about the partnership school
.
St. Ann 
students continued their "Filled with Love Bags" Food Chain tradition and delivered over 200 bags of non-perishable food items to their neighboring Caritas Food Pantry. Their delivery method is unique - they form a human chain and pass the bags across the parking lots. They completed their service by singing "We Wish You a Merry Christmas" to the volunteers at the Food Pantry. Here are a few photos from the morning:
As we prepare to celebrate the 200th anniversary of Catholic schools in the Archdiocese of St. Louis, we are pleased to announce that HEC TV will air two outstanding Catholic programs on Christmas Day from 3 to 5 pm KTVI, Channel 2.
The first hour will feature the Archdiocesan Choirs performing Lessons and Carols, a program featuring readings and music of the Christmas season.
Immediately following that program, Archbishop Carlson will offer holiday greetings and speak about the special anniversary that our Catholic schools will be celebrating in 2018. 
He will then introduce the award winning video, Mission to Educate, which was produced a few years ago by HEC TV and the Catholic Education Office. This program reviews the rich history of our schools and the impact that these schools have had on the wider metropolitan area. This is indeed an exciting opportunity for our Catholic school community.
"INNER BEAUTY, JUDGEMENT OF OUTER APPEARANCE, & ADVENT" @XLT!!! (Adoration, Speaker & Contemporary Music)
December 7th, 7-8:30 @ Sacred Heart Church in Florissant. 
Spend some reflection time in preparation for Advent with our amazing speaker and Blessed Teresa of Calcutta Youth Minister, JEFF FINNEGAN, music by members of Sacred Heart's contemporary music group and a Reconciliation opportunity for those who wish to receive it.
XLT is sponsored by the North County Deanery youth ministry team.  All are welcome: teens, families and adults of any age who want to experience this night of inspiration, reflection and adoration!
Fun and snacks afterwards (8:30-9:00pm)
Students at six north county Catholic preschools and elementary schools now have access to the services of a social worker and speech language pathologist during their regular school day.  About 18 months ago, the Department of Special Education in the Archdiocese Catholic Education Office began planning for the future of its St. Mary's Special Services Day Care and Preschool, which had been serving children 6 weeks to 5 years old as an inclusionary day care program located next door to Trinity Catholic High School.  Dr. Cathy Johns, who oversees the Department of Special Education, said the goal was to increase the reach of the special education services that St. Mary's can provide.  "Our mission is to help each student reach his/her God-given potential," said Dr. Johns. "We saw a great opportunity to connect with the Catholic elementary schools in north county in order to serve the students already enrolled in Catholic education who may need some early intervention services." 
The decision was to move from a site-based approach to a community service provider model, and so the daycare and preschool closed at the end of June 2017. When the new school year began in August 2017, St. Mary's Special Services began its new Early Intervention program at six schools: Christ Light of the Nations, Blessed Teresa of Calcutta, Holy Spirit, St. Ann, St. Norbert, and St. Rose Philippine Duchesne. As a standalone daycare and preschool, St. Mary's had served between 35-50 children each year, with about 25% of those requiring special early intervention services.  By going into these six schools, the program has already enabled early intervention screenings for over 250 children and is providing special education services to over 60 children, and counting.
Carol McCandless, who served as the director of the preschool for 19 years, is now bringing her expertise in social work to reach more children in Catholic schools in north county, connecting them with outside agencies and resources. By moving from the site-specific program to a community-based service provider in several schools, St. Mary's Special Services now screens students to help identify early needs, provides services to students who qualify, and connects students and their families with the resources they need to be successful in school.
"This program is blossoming," said McCandless. "We have felt very welcomed at the schools, and the teachers and students are responding well to our presence.  It's rewarding to be able to reach many more students than we could when we were at only one site." 
Classroom teachers now have an on-site resource to address student needs as they arise. McCandless has worked with teachers to screen students using a Student Risk Screening Scale (SRSS-IE), which uses a simple rating scale on a student's internal and external behaviors that may indicate a student's need for extra support. McCandless can then consult with parents and guardians and work with students during the regular school day, giving them tools to self-regulate thoughts and feelings and referring them to additional services and support as needed. McCandless is currently working weekly with approximately 30 students at the six schools, and is available for consultation as needed. 
In addition to social work, St. Mary's Special Services brings speech language pathology services to classrooms. Allison Hill, Speech Language Pathologist, spent the first quarter of the school year screening preschool, kindergarten, 1st grade and some 2nd grade students at the six schools. The screening is for speech (production of sounds), language (cognitive understanding and use) and fluency.  Of the 230 students who were screened, 45 were referred for further evaluation and others will be monitored and re-screened in the spring. Hill is now providing individual and group therapy sessions to address the students' needs identified in the screening.  "We use Individual Learning Plans (ILPs) for each student, and since I'm now on-site at each school twice per week, I have the opportunity to more easily connect with the students and their teachers," said Hill.  "It feels great to know that we are already helping more students than we could before. Being in the same building with more students who need our services makes it easier to intervene early."
Ms. Hill has put together a quick list of activities parents can use at home to encourage speech and language development with their children.  Click here to download the PDF.
These early intervention screening and therapy services are provided at no cost to families and are in addition to those they may also be receiving from other agencies or the public school districts. St. Mary's Special Services Early Intervention Program is funded by the Annual Catholic Appeal and United Way of Greater St. Louis, with no charge to participating schools for this first year.  Dr. Johns is exploring funding options for future years including the possibility of additional grants and some financial commitment from participating schools.
The Department of Special Education also operates the Academy at St. Sabina in north county, which is a K-8 elementary school for children whose learning disabilities, attention deficits, or other cognitive processing deficits require an alternate setting to experience educational success other than the general education classroom.
For more information about the Catholic Education Office's Department of Special Education, visit http://archstl.org/education/page/about-special-education-schools
Recently nurses from SSM Health DePaul Hospital visited students at St. Rose Philippine Duchesne School and Christ Light of the Nations School to teach them about heart health, how the heart works and what happens when someone has a heart attack. They also learned how to call 911 if they are with someone who appears to be having a heart attack.  It was a great experience for the students and the nurses! 

 
Click here to view more photos.
     This week, Fr. Nick Winker was recognized as one of North County Inc.'s 30 Leaders in their Thirties. Each year, the regional development organization invites nominations from the north county community for young professionals who are making a difference. Fr. Nick certainly makes a difference for the parishioners at St. Ann Catholic Church, leading their parish and school with energy and compassion. Recently he led the installation of new LED lighting in the school building. Not only does the new lighting save energy, money and provides a better look, but the classrooms are now equipped with cutting-edge lights that are dimmable and they can change their color temperature. The hue of the light in a classroom can now be adjusted from hospital bright white to a much softer yellow fireside glow light. Natural human biorhythms are informed by the color of the light around us, which means brightness and temperature of the light affect how we feel. Teachers now have the ability to use the light to help inform the students' bodies as well as their minds of the appropriate attitude and energy level for the task at hand.

Students from all the north county Catholic elementary schools and PSR programs had the opportunity to gather for special retreat days away from school to focus on the sacraments they will soon receive.  Second-grade students are preparing for First Reconciliation and First Holy Communion. The Sacred Heart Sisters from the Archdiocese's PaulVI Retreats led groups of schools through wonderful retreat days on Oct. 5 (Christ Light of the Nations, Holy Spirit, St. Norbert and St. Rose Philippine Duchesne), and Oct. 25 (Holy Trinity, Holy Spirit PSR, St. Ann, St. Ferdinand, and St. Sabina PSR) at Pallottine Retreat Center.  A third day is scheduled for Monday, Nov. 6 (Blessed Teresa of Calcutta, Our Lady of Guadalupe and Sacred Heart).