Fine Arts Experience for Students:
Metro Theater New Kid Performances at St. Angela Merici & Sacred Heart

     Everyone has experienced the feeling of being a "new kid." Whether it's the first day at a new school, a new job, new neighborhood or a whole new country, the emotions are similar.  To bring an additional Fine Arts experience to students, the Federation of Catholic Schools hosted a live production of "
New Kid
" by Metro Theater Company on November 15 at St. Angela Merici, with visitors from Christ Light of the Nations, Our Lady of Guadalupe and St. Norbert, and on November 17 at Sacred Heart, with visitors from St. Rose Philippine Duchesne, Blessed Teresa of Calcutta and St. Ferdinand. 
    Students in grades 5-8 from each school had the opportunity to watch this professionally produced play, and had a live Q&A session with the actors. The discussion ranged from exploring the feelings of being a "new kid" and how to be welcoming, to technical questions about putting on a live performance from building the set, rehearsals and some insight into the work of an actor.  Pictured above are the actors in a "freeze frame" situation, which they discussed with the students.  The picture below shows the actors saying goodbye to students as they head back to their schools!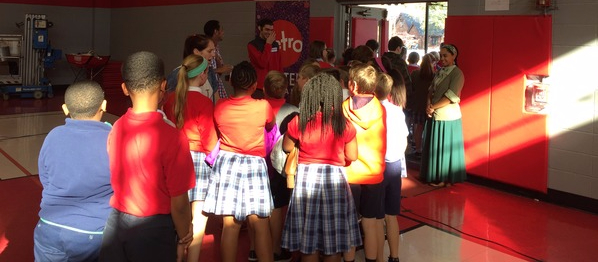 ---
Students from the eight schools of the Federation shared their talents with the community at the 2012 Fine Arts Night, held March 1st at Trinity High School.
Third and Fourth grade students from all of our
eight elementary schools
in the deanery came together for a music performance and sang beautifully. Band members also put on a fine show for a standing-room-only audience.  
Music and Art teachers worked together to coordinate the evening, helping students learn the songs, practicing with them and collecting art projects for the display.  An addition to the program this year was the speech team demonstration. "The students were very excited about performing and showing their talents.  This is such a wonderful opportunity to showcase what our students are capable of doing," said Sue Heredia, speech coach.  "We can tell you that when they enter high school, these students have poise, presence of speaking in front of people, and many continue to develop their talent by participating in their school plays."
Art teacher Debbie Laramie coordinated the display of student artwork. " I am very proud to help display the work of some of these fine young artists," said Mrs. Laramie. "God bless Catholic schools."
Below are some snapshots of the impressive art display - hundreds of pieces of student artwork were on display at Fine Arts Night at Trinity High School on March 1, 2012.
2011 Fine Arts Night
Browse photos from last year's Fine Arts Night below: